VIRGINIA   BARTER
Métis Historical Writer, Storyteller, Musician, Filmmaker / TV Producer
Workshops, presentations – guest speaker for schools and public events.
Artist in the Schools Program
Students learn fur trade history through storytelling, music, dance, film and visual arts, as well as hands-on artifact displays and cultural items.  Themes also include natural history, conservation and ecology with an Aboriginal perspective.  Also contemporary themes of identity and culture can be explored through my TV series "Urban Aboriginal".
==========================================================================================
Workshops/presentations
View my downloadable printable trifold brochure.  
(Please note the brochure has been updated in 2018 to reflect the changes in the OAC Artists in the Schools Program grants. Also see details below under Pricing.)
Click on links for high resolution printable PDFs:  
Print a double-sided tri-fold brochure. (Note: May need to flip image on short side in printer options to print out correctly as a doubled-sided tri-fold)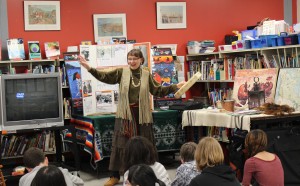 As a storyteller and filmmaker, my presentations are interdisciplinary, covering a wide range of curriculum subjects – history, geography, social studies, science, music, art. (Specifically with a Métis and Cree cultural focus.) I tell stories about fur trade family life.
Presentations typically include a hands-on display of Métis artifacts and cultural items and educational panels. Workshops may include dramatic re-enactments and filmmaking – "heritage moments", as well as media studies.
I can do a variety of things depending on your needs. Here are some suggested options:
(Click on image to view details or select  sidebar menus.)
1. History Through Films – the story of Samuel HEARNE .
 (click image to read more . . . then click back arrow to return to this page)
2. Urban Aboriginal TV Series  – contemporary issues and themes – media studies.
(click image to read more . . .then click back arrow to return to this page)

3.  Métis and Fur Trade Cultural Displays – (history, geography, Aboriginal culture ) 
(click image to read more . . .then click back arrow to return to this page)
4. Storytelling – "Searching for the Silver Fox" – Fur Trade Family History; and "The Four Directions" – storyboard/map project. Digital storytelling projects and more.

(click image to read more . . .then click back arrow to return to this page)

5. Métis and Cree Music, Dance and Culture – (physical movement and cultural learning)
(click image to read more . . .then click back arrow to return to this page)
6. Louis Riel Day theme – Métis historical events and stories, (history of the Northwest)
(click image to read more . . .then click back arrow to return to this page)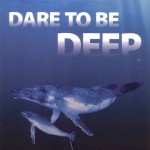 7. Eco stories: "Dare to Be Deep" – marine conservation video presentation, featuring Haida ceremonial dancers – (science and Aboriginal culture)
(click image to read more . . .then click back arrow to return to this page)
 8. *Canadian Boreal Forest Initiative – sustainable development in Canada's great northern forest 
* Saving the Carolinian Forest – Southern Ontario's unique eco system – science of wetlands conservation and forest management.
(*Urban Aboriginal TV series and media research project.)
(click image to read more . . .then click back arrow to return to this page)
==================================================================================
PRICES:
Vary depending on presentation needs and materials.
Estimate $250 for a single class presentation; $450 for a full day.  (plus travel if outside Toronto.)
TDSB Teachers note:
Starting fall of 2019 – I have an accredited Partnership Agreement with the Toronto District School Board. 
Contact me directly at: vbarter@rogers.com Ph: 416-312-9457
(See my Artist Brochure for more information.)
SECONDARY TEACHERS TAKE NOTE:  Toronto District School Board –  NAC 10 program for participating Grade 9 art classes. I am listed on the artist roster for this program.  Bookings are ongoing.  Artists' fees are covered through the TDSB Aboriginal Education Centre.  
ELEMENTARY TEACHERS:  Planet in Focus Environmental Film Festival – Eco Film Lab . . . If you want a filmmaker to help your class make a film for competition, or if you just want someone to come in and talk about the basics of filmmaking, contact  Planet in Focus at 416.531.1769 to find out more.   I am one of the filmmakers available for booking.
============================================================================================
ONTARIO ARTS COUNCIL – Artist in Education programs CHANGES! 
For the past several years I have presented many of my artists in the schools programs under a grant provided by the  Ontario Arts Council.  I would like to thank the OAC for making this program possible. It provides an opportunity for teachers and artists to work together intensively to create extraordinary projects with their students, at a cost that is affordable to the schools.  There are now new program guidelines where schools can apply directly for grants. If you are interested in participating in this program, here is some brief information: 
New for 2018 . . .
INDIGENOUS ARTISTS IN COMMUNITIES AND SCHOOLS
Purpose
The program supports projects that bring together Ontario-based Indigenous artists or Elders to:
work with individuals or groups of people from a community on collaborative activities that create a meaningful arts experience and transmit artistic skills and knowledge
teach arts workshops in schools during the upcoming school year, engaging children and youth in creative, active, hands-on and in-depth arts experiences
Recent changes with Ontario Arts Council
The Indigenous Artists in Communities Projects and Indigenous Artists in Schools programs have been merged into one program with two deadlines.
The Indigenous artists in northern Ontario fly-in communities category, with a maximum grant of $17,000, is now open to community arts projects, as well as school projects.
See the OAC website for details on application deadlines and funding details:
http://www.arts.on.ca/grants/indigenous-artists-in-communities-and-schools-proj
If you are interested in collaborating on a project, contact me to discuss it. 
====================================================================
Teachers take note for 2017 . . .

 TDSB Arts CO-OP Program runs at Eastern Commerce.   This program runs from Feb. 21 – mid June.   (Drama, dance and film/media.) I was the facilitator for the Film/media strand in 2017.  To learn more about the program, contact Lorraine Suthern at the TDSB Arts Department or the Aboriginal Education office.  This is open to students of all backgrounds. Aboriginal students are especially encouraged to apply.
Ontario Arts Council –  Aboriginal Artist in the Schools Program is changing.  My bookings  for 2016 are finished.  (See above) Check the OAC's new website for details of new Artists in Education program initiatives.

TDSB Libraries WRITER IN RESIDENCE Program
I was selected as a writer in residence for "Just Read It" program for the 2016/17 school year. Thank you to the TORONTO DISTRICT SCHOOL BOARD for this wonderful support of local authors. 
Click on these links to see the list of authors and their bios, as well as the schools who won visits last year.
http://www.tdsb.on.ca/About-Us/Innovation/Just-Read-It/2016-17-Authors
http://www.tdsb.on.ca/About-Us/Innovation/Just-Read-It/Writers-in-Residence