VIRGINIA   BARTER
Métis Historical Writer, Storyteller, Musician, Filmmaker / TV Producer
Workshops, presentations – guest speaker for schools and public events.
Artist in the Schools Program
Students learn fur trade history through storytelling, music, dance, film and visual arts, as well as hands-on artifact displays and cultural items.  Themes also include natural history, conservation and ecology with an Aboriginal perspective.  Also contemporary themes of identity and culture can be explored through my TV series "Urban Aboriginal".
=========================================================================
Teachers take note for 2017 . . .

NEW!!!  TDSB Arts CO-OP Program at Eastern Commerce - This program will run from Feb. 21 – mid June 2017.  I will be the facilitator for the Film/media strand. Applications are still open for some strands of the program: (Drama, dance and film/media.)  Please contact Lorraine Suthern the TDSB or the Aboriginal Education office to learn more.  This is open to students of all backgrounds. Aboriginal students are especially encouraged to apply.
Ontario Arts Council –  Aboriginal Artist in the Schools Program is changing.  My bookings  for 2016 are finished.  Check the OAC's new website for details of new Arts in Education program initiatives.

Toronto District School Board –  NAC 10 program for participating Grade 9 art classes. I am listed on the artist roster for this program.  – bookings ongoing.
NEW – This year I have been selected to be a WRITER IN RESIDENCE FOR THE TORONTO DISTRICT SCHOOL BOARD. 
See TDSB website for details on how your school can participate in the program:
http://www.tdsb.on.ca/AboutUs/Innovation/JustReadIt/WritersinResidence.aspx
http://www.tdsb.on.ca/AboutUs/Innovation/JustReadIt/201617Authors.aspx
Planet in Focus – Eco Film Lab . . I am a film workshop facilitator for Planet in Focus Film Festival.  They offer FREE workshops to schools interested in making films about the environment.  If you want a filmmaker to help your class make a film for competition, or if you just want someone to come in and talk about the basics of filmmaking, contact Jordana Aarons at Planet in Focus at 416.531.1769 to make a booking.  There are still some spots left for May and June bookings. For more information on how the program works, visit their website at: http://planetinfocus.org/eco-film-lab-toronto   This program is funded by the Canada Council for the Arts.
 ===========================================================================
Workshops/presentations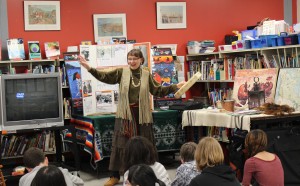 As a storyteller and filmmaker, my presentations are interdisciplinary, covering a wide range of curriculum subjects – history, geography, social studies, science, music, art. (Specifically with a Métis and Cree cultural focus.) I tell stories about fur trade family life.
Presentations typically include a hands-on display of Métis artifacts and cultural items and educational panels. Workshops may include dramatic re-enactments and filmmaking – "heritage moments", as well as media studies.
I can do a variety of things depending on your needs. Here are some suggested options:
(Click on image to view details or select  sidebar menus.)
1. History Through Films – the story of Samuel HEARNE .
 (click image to read more . . .)
2. Urban Aboriginal TV Series  – contemporary issues and themes – media studies.
(click image to read more . . .)
3.  Métis and Fur Trade Cultural Displays – (history, geography, Aboriginal culture ) 
(click image to read more . . .)
4. Storytelling - "Searching for the Silver Fox" – Fur Trade Family History; and "The Four Directions" – storyboard/map project. Digital storytelling projects and more.

(click image to read more . . .)

5. Métis and Cree Music, Dance and Culture – (physical movement and cultural learning)
(click image to read more . . .)
6. Louis Riel Day theme – Métis historical events and stories, (history of the Northwest)
(click image to read more . . .)
7. Eco stories: "Dare to Be Deep" – marine conservation video presentation, featuring Haida ceremonial dancers – (science and Aboriginal culture)
(click image to read more . . .)
 8. *Canadian Boreal Forest Initiative – sustainable development in Canada's great northern forest 
* Saving the Carolinian Forest – Southern Ontario's unique eco system – science of wetlands conservation and forest management.
(*Urban Aboriginal TV series and media research project.)
(click image to read more . . .)
=======================================================================
PRICES:
Vary depending on presentation needs and materials.
Estimate $250 for a single class presentation; $450 for a full day.  (plus travel if outside Toronto.)
Contact me directly at: vbarter@rogers.com Ph: 416-421-5344
(See my Artist Bio page for more information on my professional background.)
OAC subsidy – how it works. 
This year I am once again on the Ontario Arts Council's "Aboriginal Artist in Schools Roster (2014-15).  Under this Artists in Education program grant,  OAC  contributes $42.00 per hour towards artist fees. (Approx 70- 80% of the artist fee). Schools pay the artists directly for the remainder of their fee. I charge $25 over and above the OAC portion.  Schools are also required to engage and artist for a minimum of 25 hours ( 20 hours in-class time, plus 5 hours prep time.)  So the cost to the school to engage me would be $625.

Note:  The intent of this program is for teachers to be able to work with an artist to create a special project with students that gives them a more intensive learning experience. Therefore the program has specific guidelines that school must follow, as outlined on the Teacher/Artist Agreement:
Minimum 20 hours of in-class time. Maximum 4 classes only in the same school. Longer artist residencies are also allowed under this program. 
I would like to thank the OAC for making this program possible. It provides an opportunity for  teachers and artists to work together intensively to create extraordinary projects with their students, at a cost that is affordable to the schools.  If you are interested in participating in this program, please see the OAC website for details or contact me for details. 
To learn more about this OAC program, and to download applicable forms, see: http://www.arts.on.ca/Page631.aspx
Also click on "Aboriginal Artists In Schools (AAS) Roster" to view the full list of names of artists .approved under this section of the program
—————————————————————————–
View my downloadable printable trifold brochure.
(Tip: Click on Jpeg image below to view quickly.  Click on links for high-rez printable PDFs. ) 
Artist brochure Pg. 1 – Virginia Barter
Artist brochure Pg 2 – Virginia Barter
Print  a double-sided tri-fold brochure. (Note:May need to flip image on short side in printer options to print out correctly as a doubled-sided tri-fold)